HOME >> Fridge Magnets And Bottle Openers
RAF Vulcan Fridge Magnet





[check ratings]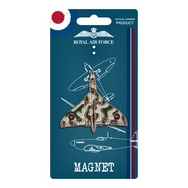 enlarge image
You can keep your notes safe with this Official RAF Vulcan Fridge Magnet. Simply attach to the fridge and enjoy the majestic Vulcan every time you pass.
Magnet Size: 65mm x 60mm (approx.)
General service feedback from our customers who bought this item
[3.5 = Satisfactory]






Customer Name / Location
Delivery Speed
Overall Rating
linda, tamworth
5 out of 5
5 out of 5
Susan, Minster-onSea. Sheerness
5 out of 5
5 out of 5
Angela, Nottingham
3.5 out of 5
4 out of 5

Please visit our overall service review page here
You May Also Like...

AVRO Vulcan Keyring
£6.95

AVRO Vulcan Bottle Opener
£7.95