HOME >> Crystal Cubes
AVRO Shackleton 3D Laser Etched Crystal Cube - Medium





[check ratings]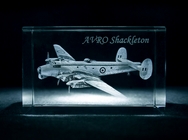 enlarge image

Celebrate the AVRO Shackleton with this stunning laser etched Royal Air Force Shackleton 2D/3D design glass crystal cube. Designed from a photograph, this image is then transformed by laser etching into a 3D effect, inside a solid polished glass block to provide intricate detail. This gift is superb quality and adds a talking point to your home.

Highest Quality Polished Glass
Superb Detailed Laser Etched
3D Image
Measurements: 8cm x 5cm x 5cm (approx)
Weight: 500g (approx)
Comes in a gift box
Why not enhance your crystal with our LED light box ...see below






General service feedback from our customers who bought this item
[3.5 = Satisfactory]






You May Also Like...

Crystal Cube LED Light Box
£24.95