HOME >> Crystal Cubes
Vulcan Bomber Crystal Cube - XL





[check ratings]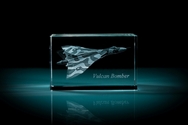 enlarge image

This solid glass crystal is laser etched with a 2D/3D image of a Vulcan Bomber. Made from grade A glass, each glass cube is slowly laser etched from a picture for a crystal clear clarity.

Measures: 11xm x 7.5cm x 6cm (approx)
Comes in a presentation box
Weight: 1350g (approx)
2D/3D Effect

Each item is individually made so please allow up to 10 working days for delivery.
General service feedback from our customers who bought this item
[3.5 = Satisfactory]