HOME >> RAF 100 Range
100 Years Of The RAF DVD





[check ratings]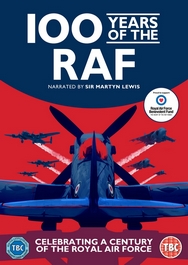 enlarge image
Looking To The Future Through Adversity To the Stars.
This Official RAF 100 Appeal DVD celebrates 100 years of the Royal Air Force. This RAF 100 film includes extraordinary and unseen historic footage of WW1 and WW2 and is narrated by Sir Martyn Lewis.
100 Years of the RAF pays tribute to the determination and courage of our men and women in theatres of war, as they defend our freedom and bring relief to people in need.
Running Time: 98 mins (approx)
PG: Parental Guidance. General Viewing, but some scenes may be unsuitable for young children.

General service feedback from our customers who bought this item
[3.5 = Satisfactory]






Customer Name / Location
Delivery Speed
Overall Rating
Hazel, Seaham
4.5 out of 5
4.5 out of 5
Fiona, Wymondham
4.5 out of 5
4.5 out of 5
Andrew, Sawbridgeworth
5 out of 5
5 out of 5
David, Codsall
5 out of 5
5 out of 5
Alison, Berkeley
4.5 out of 5
4.5 out of 5
Karen, Plymouth
5 out of 5
5 out of 5
TREVOR, BANBURY
4 out of 5
4 out of 5

Please visit our overall service review page here